The Morgan Horse
The Morgan is thought to be the second horse breed unique and native to the United States. Tracing back to Figure, the breed excels in many disciplines, and is known for its versatility.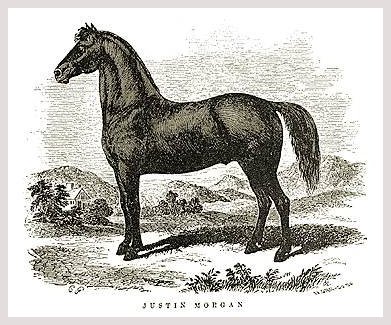 Breed characteristics
The Morgan is compact and refined in build, with strong limbs, an expressive face, large eyes, well-defined withers, laid back shoulder and a well arched neck. There is officially one Breed Standard for Morgan type regardless of the discipline or bloodline of the individual horse.
Morgans come in a variety of colors although they are most commonly bay, black, brown, and chestnut. Gray, palomino, cremello, perlino, smoky cream, silver dapple, sabino, frame overo, dun, and buckskin are also seen. There are two known frame overos, two known dark headed roans, and one possible splash white, as well. The breed standard ranges from 14.1-15.2 hh (1.45 to 1.57 m) with some individuals over and under. This size qualifies some Morgans as ponies for the purposes of competition rules. Both children and adults enjoy competing with the smaller Morgans in pony divisions.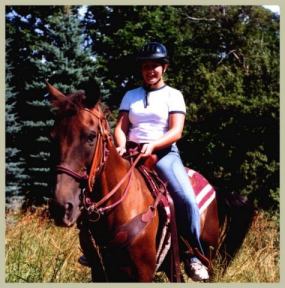 Morgans trace back to one foundation sire named Figure. The stallion was born in West Springfield, Massachusetts in 1789. The small, dark colt is now believed to have been sired by the English Thoroughbred "True Briton", also known as "Beautiful Bay" and "Traveller," who had been sired in 1768. His dam was of Wild-air breeding, sired by Diamond, and was foaled in 1784 in West Springfield, Massachusetts. The bay mare was, in fact, bred by Justin Morgan, for whom the breed is named. Figure is thought to have stood about 14 hh (1.42 m), and to have weighed about 950 lb (430 kg).
In 1792, Figure was advertised for stud before he was given as a payment for a debt to Justin Morgan (1747-1798), a singing teacher and one-time Randolph, Vermont Town Clerk. Justin Morgan owned Figure from 1792-1795, advertising him for stud in Lebanon, New Hampshire and Randolph, Vermont (1793), Randolph and Royalton, Vermont (1794), and Williston and Hinesburg, VT (1795). Figure was then lent out to Robert Evans in the fall of 1795 to clear land for a Mr. Fisk at a rate of $15.00 an year.
Justin Morgan later traded the horse for land in Moretown, Vermont, to a Samuel Allen, who then sold the stallion later that year to William Rice of Woodstock, VT.
In 1796, Figure raced in a Sweepstakes in Brookfield, VT, beating New York horses to win $50. That year, he was advertised at stud by Johnathan Shepard of Montpelier, Vermont, who also raced him in several match races in which he did well. Figure became known as the "Justin Morgan horse."
Figure was traded again in 1797, along with a blacksmith shop, to James Hawkins. It is not known what became of him until 1801, when he was in the possession of Robert Evans of Randolph, Vermont. Evans owned the horse until 1804, using the stallion for logging, racing, and breeding, until he fell into debt to Colonel John Goss. Goss collected the horse as part of the debt, and used him to review troops and also entered him in a pulling bee, which the little horse won. He later traded Figure for a mare owned by his brother, David Goss, in 1805.
David Goss owned Figure from 1805-1811, where he worked on the farm for 10 months, and was used for breeding for two months each year. He was sold in 1811 to Philip Goss for the breeding season. Philip Goss then sold Figure to Jacob Sanderson, who sold him to Jacob Langmeade. Langmeade used the horse to haul freight, and is thought to have abused the aging stallion.
Langmeade sold Figure to Joel Goss and Joseph Rogers at the end of 1811. Figure stood at stud for several years, before he was sold to Samuel Stone in 1817. Stone exhibited the stallion in the Randolph fair. Figure was used as a parade mount by President James Monroe later that year.
In 1819, Figure was sold to his final owner, Levi Bean of Chelsea, Vermont. Toward the end of his life, Figure was put out to pasture without shelter to fend for himself. He died in 1821 from an injury to the flank, caused by a kick, at the age of 32. Figure is now buried in Tunbridge, Vermont.
The popular children's book, Justin Morgan Had A Horse by Marguerite Henry, has unfortunately tended to perpetuate some misconceptions about the breeding of Figure and his early life. There is far less mystery about Figure's ancestry than is popularly supposed. This has, however, been widely researched by celebrated artist and author, Jeanne Mellin, in her work entitled "The Complete Morgan Horse".
Figure was also known for his prepotency, passing on his good looks, conformation, temperament, and athleticism.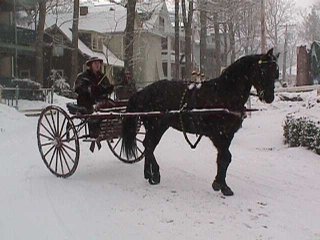 Continuing the Breed
The breed's trotting ability made it a favorite for harness racing in the 1840s. Morgans were then used in the Civil War as cavalry mounts, including Sheridan's "Rienzi" and Stonewall Jackson's "Little Sorrel". The only survivor (from the US Army)it is often said, of The Battle of Little Bighorn was the Morgan "Comanche". The breed was later used in the Pony Express and as mounts for the cavalry. The first volume of the Morgan Horse Register was published in 1894. Since then, more than 132,000 Morgan Horses have been registered. The stud book was closed in 1948 in an effort to preserve the breed.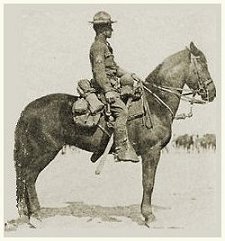 The Morgan has influenced several other breeds, including the Standardbred, Tennessee Walker, American Quarter Horse, and the American Saddlebred. Nearly 90% of Saddlebred horses today have Morgan blood.
The first national Morgan Horse competition was held in 1973, and continues to be held each October in Oklahoma City, OK. In addition to the Morgan Grand National, there are 10 regional championship shows and many other official (referred to as "Class A") shows. Morgans also compete in all-breed shows, 4H shows, and combined driving events.
At class A shows, Morgans compete In Hand, English Pleasure, Park, Western, Carriage Driving, Fine Harness, Hunt Seat, Trail, Roadster, Parade, Reining, and Dressage. In a qualifying class, performance is to be 60% of consideration in judging, and conformation to be 40%. Championship classes are judged with 50% consideration to each. The exceptions to this are the trail classes and in hand classes, which give full consideration to performance and conformation, respectively.
The classic type of Morgan is generally quite good at the Olympic disciplines as well (show jumping, dressage, and eventing), making the Morgan one of the most versatile breeds of horse.
Vermont state animal
In 1961, the Morgan horse was named the official state animal of Vermont.
.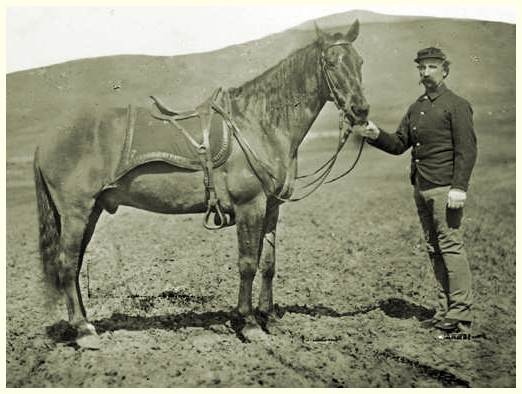 Comanche and Gustave Korn
Defeat rather than victory brought fame to Comanche. He was known as the sole survivor of General George Custer's command at the Battle of the Little Bighorn on June 25, 1876. This may be debatable as some men and other horses were photographed by the famous photographer Barry as survivors of the infamous battle. Undoubtedly Comanche became the symbolic lone survivor and was looked after by his ferrier Gustave Korn until Korn was killed at the " Battle of Wounded Knee" in 1890.
This wonderful horse, probably of Morgan blood, was born about 1862, gelded and sold to the U.S. Army Cavalry on April 3, 1868, for $90. The bay, 925 pounds, standing 15 hands high with a small white star on his forehead, became the favorite mount for Captain Myles Keogh of the 7th Cavalry. He participated in frequent actions of the Regiment and sustained some 12 wounds as a result of these skirmishes. He was bought by the U.S. Army in 1868 in St. Louis, and sent to Fort Leavenworth, Kansas. He was a good looking horse, and instead of being kept with the regular cavalry, Captain, Myles Keogh, bought him for $90 to use as his personal mount. He normally rode his horse Paddy on marches, Comanche following with the other extra horses. Comanche was the horse Captain Keogh rode into battle, the horse being fresh because he was only mounted at the last moment before the fighting began. He was a war horse.
Captain Keogh was in Custer's 7th Cavalry. In the fall of 1868, his unit fought the Comanche tribe in Kansas. During the battle, the horse was wounded, but the Captain did not know that and continued to fight from his back until the battle was over. Afterward, he discovered an arrow broken off in the horse's hindquarters. The wound was treated and after the horse recovered, he had earned the name Comanche for his bravery in continuing to carry his master despite his own pain.
In 1870 during a battle again against the Comanche tribe, the horse was wounded in the leg. He was lame for over a month this time, but recovered. Then, in 1871, Comanche was wounded in battle once more, this time in his shoulder, and once again, he recovered quickly. The cavalry was very proud of this brave horse who continued to go into battle despite being wounded so many times.
In 1876, Captain Keogh rode Comanche into the valley of the Little Big Horn and the battle known as Custer's Last Stand. This time they were fighting the Soux and Cheyenne tribes, and it was the last great battle for the Native Americans. They defeated the 7th cavalry and killed every soldier. The only member of the 7th cavalry left alive after the battle was Comanche.
Two days after the Custer defeat, a burial party investigating the site found the severely wounded horse and transported him by steamer to Fort Lincoln, 950 miles away, where he spent the next year recuperating. Comanche remained here with the 7th Cavalry, never again to be ridden and under orders excusing him from all duties. Most of the time he freely roamed the Post and flower gardens. Only at formal regimental functions was he led, draped in black, stirrups and boots reversed, at the head of the Regiment.
When the Cavalry was ordered to Fort Riley, Kansas, in 1888, Comanche, aging but still in good health, accompanied them and continued to receive full honors as a symbol of the tragedy at Little Bighorn. Finally, on November 7, 1891, about 29 years old, Comanche died of colic.
The officers of the 7th Cavalry, wanting to preserve the horse, asked Lewis Lindsay Dyche of the University of Kansas to mount the remains: skin and major bones. For a fee of $400 and on condition that he be permitted to show the horse in the Chicago Exposition of 1893, Dyche completed the appropriate taxidermy. Although there is no record of the fee being paid, the horse was donated to the university's Museum and property rights are vested in the University through L.L. Dyche.
What remains of poor old Comanche is currently on display in a humidity controlled glass case at the University of Kansas Museum of Natural History, Dyche Hall, Lawrence, Kansas.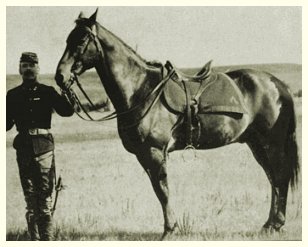 Morgans in the Civil War

Morgans were a favored mount by cavalry soldiers in the Civil War. They were sensible under fire. The could march tirelessly all day. They maintained their condition on unpredictable rations. And they were loyal to their riders in all circumstances. Morgans recorded by Civil War stories include Reinzi, Charlemagne, Little Sorrel. Other Morgans included the mounts of the 5th New York Cavalry: Pink, Betty, Cockeye, Prince, Frank, Mink, Mollie, Jack (#1), Topsy, Nellie, Jack (#2), Dunlap's mare, Sukey, Black Dick, Brydon's Nellie, Charley, Jane, Pomp, Wyman Horse, June, Lucy. A monument was built to honor Pink, and a marker was made for the grave of Billy. Betty Root served under Lt. Trussel in the 1st Vermont Cavalry. Old Clem was owned by Colonel Lemuel Platt who organized the 1st Vermont Cavalry. Clifton was ridden by Dr. William Capeheart of North Carolina until he was killed in action in March 1864.

The following regiments of the cavalry were mounted on Morgans when they were first organized. As horses were killed in action they were replaced by government owned mounts which varied in quality.

First Maine Cavalry

Second Michigan Cavalry

Third Michigan Cavalry

Fourteenth Pennsylvania Cavalry

Fifth New York Cavalry Company H

First Rhode Island Cavalry (Morgans and French Canadian horses)

Fourth Virginia Cavalry Company H-Also known as the Black Horse Cavalry or the

Black Horse Troop, this unit created panic among the raw recruits of the Union army at the First Battle of Bull Run or First Mannassas.

First Vermont Cavalry-this unit received shipments of more Vermont horses during the war, 200 of the original 1,200 Morgans used to mount this regiment survived the war. They inspired the following remarks:

"The mounts of the First Vermont Cavalry were decidedly the best I had ever seen. Everybody was attracted by them. I have heard both General Buford…and General Hatch…say that the mounts of this regiment was the best in the army. General Buford…also told me that he would as soon have this regiment of Vermont volunteer cavalry as a regiment of the regular army." - Charles Tompkins, Captain, U.S. Army

"The other day, a very fine horse being offered at the Inspection Ground, I bought him. He is a chestnut horse about 15.2 hands high, five years old, weighs between 1,000and 1,100 and is pretty as a picture. He is of the Morgan breed, proud and high spirited, yet fearless. He will stand within four feet of a puffing locomotive and never thinks of being frightened. He is deep-chested and has very powerful and muscular limbs. Built for strength, speed and endurance. He has a very fine head and ears and a neck that might serve as a model in painting. In fact, he is a prince among horses, and I doubt not that I shall be envied my treasure when I rejoin my regiment. I ride him a little every day and enjoy it hugely. It seems good to be once more in the saddle. On the street his proud bearing attracts much attention and the rascal gets more admiring glances than his rider." - Captain William C. Hazelton, 8th Illinois Cavalry, letter to his mother, June 3, 1864.

"Dad fought in the Civil War and saw a lot of that company from Vermont that had all the Morgan horses. Dad was with the artillery. Six horses were needed to pull each big piece of equipment and Dad got two of those Vermont Morgans for his lead team. He sure thought a lot of them and according to him there wasn't anything they couldn't do. They were constantly in demand to move pieces of artillery that were mired and other teams had failed to move." - A.G. Maier speaking of his father and his Morgan horses in 1950

Famous Morgans

Reinzi ( a.k.a. Winchester) was ridden by General Philip Sheridan to rally his Union troops and was commemorated in the poem and painting, "Sheridan's Ride" written by Thomas Buchanan Read. Reinzi was preserved and is at the Smithsonian museum.

Little Sorrel was a Morgan ridden by Confederate General Stonewall Jackson in his Civil War campaigns.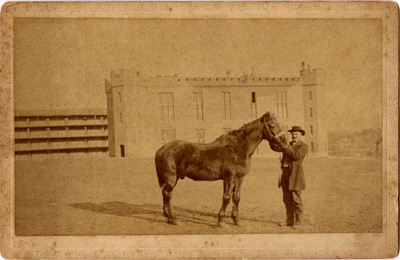 Comanche, one of the few survivors of the battle of the little big horn is widely considered to have been of Morgan lineage.

Charlemagne was the Morgan mount of General Joshua Chamberlain when he won the fight of Little Round Top during the Battle of Gettysburg in July 1863.

Black Hawk - A son of Sherman Morgan, he was famed for his speed and elegant style. He in turn sired the world champion trotter Ethan Allen.

Ethan Allen 50 - The fastest trotting stallion of his day, he was sired by Black Hawk. The popular trotting horse weather vane was based upon his silhouette.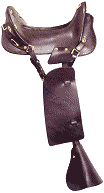 McClellan Saddles
Captain George B. McClellan toured Europe with a military commission looking at new military tactics. He returned and developed a new modified cavalry saddle. In 1859, the U.S. War Department adopted the McClellan saddle. They remained the standard issue throughout the history of the horse cavalry. The saddle was simple and less expensive than most saddles. It was light enough not to weigh down a horse, yet it was sturdy and gave good support to the rider and his gear. In its original form the seat was covered with rawhide but was changed to leather in later models. It featured a thick leather skirt, and leather covered wooden stirrups.