About the Artists



About Us


We are James Edward Boyle and Beth Maxwell Boyle. Together we have created a unique line of pewter and sterling silver jewelry which we currently market on this site and at shows. We call our business the Rams Horn Studio. We each hold Bachelor of Fine Arts degrees in Jewelry and Metalworking from Edinboro University of Pennsylvania where we met in 1976. We were married in 1980 and set up our art studio soon after. We now live on a small farm, Thistledown Croft, in rural Chautauqua County which is in western New York State. In the sanctuary of our tiny farm in Stedman Corners near Mayville we find the quiet and solitude to do our work. Our animals and the beautiful landscape surrounding us provide us with endless inspiration for new works. Our workshop and studio is over the sheep & horse barn. This is where we create most of our fine pewter and sterling silver jewelry. The Rams Horn Studio specializes in animal theme jewelry & Celtic design. For 20 years we have worked to create a unique line of handmade, designer, jewelry of the highest quality. We also make reproductions of antique pieces for the discriminating collector. Beth has been doing pen and ink illustrations since her high school days. These are available as prints and note cards. We have found the Net is the best way to reach niche markets and a wide number of people which leaves us time to design and create new works for sale. All our pewter castings are lead free and made by hand. Nothing is made overseas or farmed out to be cast elsewhere as is done by many jewelers. Jim has long designed wonderful jewelry for both men and women. Even while in high school James was casting fine silver, sterling, and pewter. The Rams Horn markets jewelry and buttons to spinners, knitters and weavers but also sells allot of pieces to people who enjoy SCA events and Renaissance Fairs. Much of what we make is in the Celtic and fantasy vein. Beth's Prints and Jim's etched pieces reflect the Celtic, Scottish and Irish traditions we love. Our pieces utilize allot of fine line and detail. Knotwork, spirals and zoomorphic themes run through much of our work. Legends and myths of ancient civilizations have often given us the inspiration for our art pieces. The Rams Horn Celtic line is very popular with reenactors and people who attend highland games. We have even sold a number of kilt pins and plaid brooches to gentlemen to wear on their wedding day. Beth recently developed a very special line of pipe tampers by reproducing antique tamps from England in fine jeweler's pewter. Pipe collectors and smokers treasure these classic pieces carefully crafted by hand. These and many other unique works of art are on offered for sale on this site. You can meet Jim and Beth in person at the Maryland Sheep & Wool Festival, the Finger Lakes Fiber Show, and the New York State Sheep & Wool Festival. We hope you enjoy our website. Peace.
Best regards,
Beth and Jim Boyle.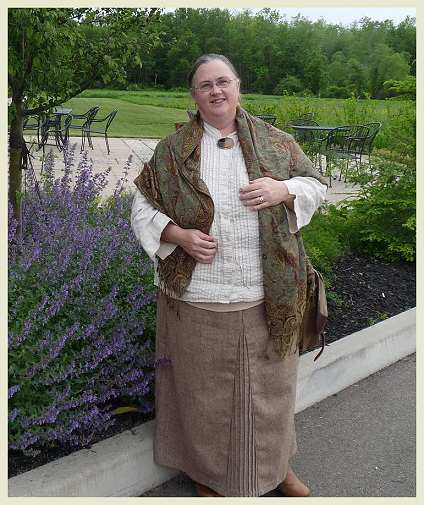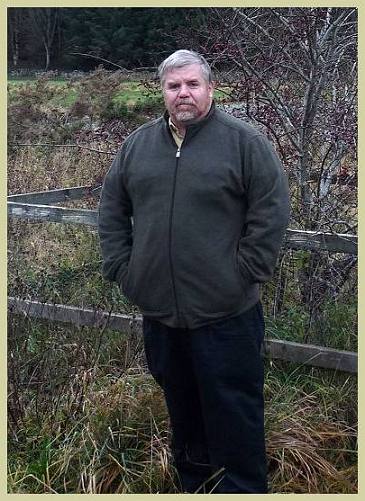 The Rams Horn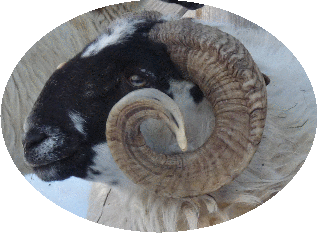 Jim and Beth Boyle
3680 Panama-Stedman Road
Mayville, NY 14757
USA
Phone 716-789-5804
NOTE:
Please do not use your GPS to find our home? We do not do any business from our home or studio. We do all business at shows and from this website. Please respect our privacy? Thanks!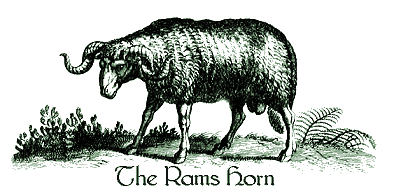 at Thistledown Croft

Farm established 1980
on the Web since 1997

copyright 2002 , Jim & Beth Boyle, All Rights Reserved

No part of this website may be used for any purpose ( including using images ) without written consent from The Rams Horn